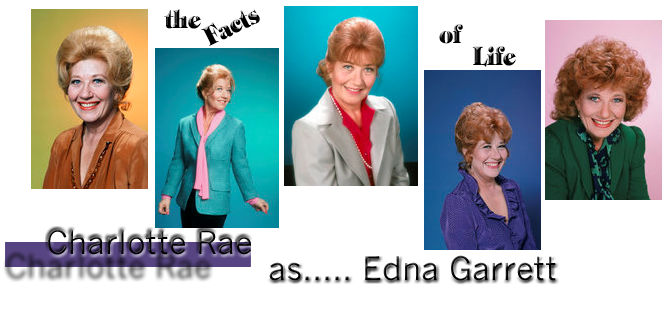 CHARACTER TIDBITS
Edna Ann Garrett

QUOTE:
Get the hell out of here before I beat you with my frying pan!

Family:
Robert Garrett (Spouse, divorced circa 1976)
Dr. Bruce Gains (Spouse, 1986 until his death circa 2001)
Alex Garrett (Son; musician/carpenter)
Raymond Garrett (Son; accountant)
Doris Garrett (Daughter in Law; spouse of Raymond Garrett)
Beverly Ann Stickle (Sister)


Education:
Appleton Senior High
Langley College (1984-1986)

BIOGRAPHY: CHARACTER EDNA ANN GARRETT
Mrs. Edna Garrett is is a sensible salt-of-the-earth type. Born and raised on a Wisconsin farm and not highly educated except to life, she loves to bake and give advice. She also has two sons, Raymond and Alex. She's divorced, her ex-husband is a vaudevillian and a compulsive gambler, which, is why she left him. In 1978 she was the housekeeper for the Drummond Family in Upstate New York to help Mr. Drummond take care of his two adopted sons, Arnold and Willis; and his daughter Kimberly. Upon visiting the school Kimberly attended (Eastland), she found that the dorm was needing a housemother as the place was in disaray. She then left the Drummonds in 1979 to become housemother at Eastland Academy in Peekskill, New York. In 1980, she was promoted to school dietian and took care of four (probationary) girls; Blair, Jo, Natalie, and Tootie.

Feeling tired and run down by the demands of Headmaster Mr. Parker, she left Eastland in 1983 and opened her own gourmet food shop (with the help of her son, Raymond) in Downtown Peekskill called Edna's Edibles and later enrolled in nearby Langley College in 1984. In 1985, Edna's Edibles was devastated by an electrical fire and decided to turn her gourmet food shop into a novelty store and joint partnership (Over Our Heads) with her close friends Natalie, Tootie, Blair, and Jo. In 1986, a former love Dr. Bruce Gain's visted Edna and she that year remarried him and left the United States to Africa to join the peace corps. Her sister, Beverly Ann, took her place as part owner of Over Our Heads. In 2001, feeling lost since her husband passed away, she moved back to the United States to work at Blair's Hotel (The Little Inn in Peekskill).

BIOGRAPHY: ACTRESS CHARLOTTE RAE
Charlotte Rae was born in Milwaukee, Wisconsin, on April 22nd, 1926 as Charlotte Lubotsky. Growing up, Charlotte Rae claims she wanted to be a star just so she would feel like she fit in. To that end she moved to New York City where she met and eventually married composer John Strauss. During her early years she rubbed elbows with other young actors such as Paul Lynde, Uncle Arthur from Bewitched, and Cloris Leachman, her one-time NYC roommate who would later replace her on The Facts of Life.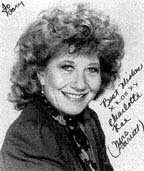 WHERE IS SHE TODAY?
Since leaving The Facts of Life, Charlotte Rae guest stared in St. Elsewhere, Murder, She Wrote, Canít Hurry Love (with her The Facts of Life co-star, Nancy McKeon) and more. She also lent her voice as the character Nanny on the TV animated series, 101 Dalmatians: The Series.

In 2001 Charlotte Rae reunited with her cast members for a TV Movie, The Facts of Life Reunion and in 2007 the cast sang the memorable The Facts of Life theme song at the TV Land Awards.

Charlotte has two sons and three grandchildren.



Charlotte Rae Photo Gallery

---
Click here to go back to the cast list page.