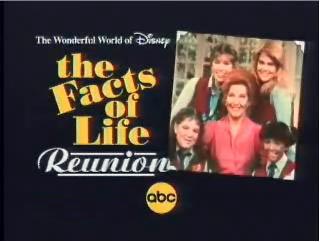 WELCOME TO THE FACTS OF LIFE REUNION MOVIE SITE!

This site is my tribute to the movie, The Facts of Life, produced by Walt Disney's Touchtone Television Productions for the ABC Network (Wonderful World of Disney) in 2001. This site was created on October 9th, 2001. This site, to date, is the first and only site for the Facts of Life Reunion.


Please send questions, comments, and suggestions webmaster@televisionhits.com.

THE FACTS OF LIFE spun off of Diff'rent Strokes and debuted on August 24th, 1979. As the sitcom got older the scene changed from the school to a small shop in downtown Peekskill, New York. In 1986 after many changes, Charlotte Rae (Mrs. Garrett), the lead, decided to leave the show feeling that the girls had out grown Mrs. Garretts advice. In September of 1988, the show that kept the network afloat was cancelled. Now all the girls are grown up, Natalie now serves as a behind-the-scenes producer at CNN and invite the girls back to peekskill to reunite and help her decide over two marriage proposals. Mrs. Garrett returns to the States on a cruise ship, where she meets a new love interest. Blair owns Warner Enterprises, which includes a stable of hotels, and is married to Tad Warner. Tootie is a Hollywood-based talk show host and the single mother of a 10-year-old girl, Tasha. And Jo is still married to Rick and are parents of their daughter Jamie.

Lisa Whelchel stated, "We spent the last two days shooting scenes inside the Eastland Cafeteria. The set designers had the model of the original set and recreated it inside a church fellowship hall in Toronto. I can't tell you the emotions that flooded to the surface as I made "an entrance" through the archway at stage left."
WHERE TO WATCH THE SHOW
The Facts of Life Reunion Movie aired on ABC's Wonderful World of Disney, November 18th, 2001. ``We chose to do it as an old-fashioned romantic comedy,'' said Quinn Taylor, senior vice president of TV movies at ABC. Taylor hoped the film benefited from the picture's adult appeal. November is a period that the networks call "The Sweeps" - it is when they set the amount to charge for advertising and commercials and when they want their programs to get the best ratings. Now after it's debut airing, the ABC Family Channel airs the movie periodically. Click here to connect with ABC's Official Site!


---
© 1998-2012 The Facts of Life Reunion Movie Site