Saturday, July 28, 2012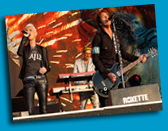 ROXETTE TO TOUR THE U.S.A

It's been almost 12 years since Roxette last toured the United States with a semi-acoustic short promotion tour for their compilation album 'Don't Bore Us Get To The Chorus.' Grab your tickets as Roxette will return to the USA in New York, Boston, San Francisco, and Los Angeles this September. As a part of their World Tour, they announced in early spring the return to the United States in conjunction with their latest album, 'Travelling.' They last toured the United States in Seattle and New York City in September of the year 2000. Welcome Back Roxette! See Below for ticket information!

September 02, 2012 Buy Tickets; Beacon Theatre - New York City, New York
September 03, 2012 Buy Tickets; Orpheum Theatre - Boston, Massachusetts
September 14, 2012 Buy Tickets; Nob Hill Masonic Auditorium - San Francisco, California
September 15, 2012 Buy Tickets; Gibson Amphitheatre - Universal City, California

---

Saturday, July 28, 2012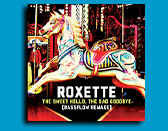 NEW, UNEXPECTED ROXETTE EP RELEASED!

(EMI: Per Gessle) There was a time when you recorded LP albums. Each side was about 20 minutes long to maximize the sound quality. Our Joyride album was so jam-packed with material that we just had to omit a few pearls that we really loved. One of them was "The Sweet Hello, The Sad Goodbye", which instead was used as a B-side on the "Spending My Time" single (yes, they had B-sides back then…). We've been regretting this for twenty years now, and when we did the Travelling album, which was recorded during our 19 month World Tour, the idea popped up to give "The Sweet Hello, The Sad Goodbye" a new and well-deserved chance. Would there be a way to brush off the dust and rejuvenate this overlooked gem into the current world? There certainly would. We gave it to Peter "Bassflow" Boström, who was unable to make the tight Travelling deadline since he was busy writing and producing Loreen's Eurovision Song Contest Winner "Euphoria". But now, in time for the summer season, he's done. And what a piece of work it is. Absolutely brilliant. We love it! Now more than ever...

The 4 track, blue-vinyl EP to be released soon.


---
Visit our News Archive to see our previous headlines!
Saturday, July 28, 2012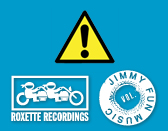 DISCLAIMER ABOUT ROXETTE UNIVERSE
We would like to welcome you to Roxette Universe. Within the pages is alot of information to become re-acquainted with the famous swedish musical duo 'Roxette.' All information, pictures, audio clips, and video's are for educational and informational purposes only. To preserve our respects to Per Gessle, Marie Fredriksson, EMI, Capitol Records, Roxette Recordings, Jimmy Fun Music and Roxette, we have limited all audio file snippets to a length of 30 seconds or less. We do NOT condone or support the following: illegal downloading of music files in anyway shape or form, support merchandisers or links to unreleased/unofficial material and merchandise including but not limited to demo's, DVD's, CD's, or other bootleg media sources.


Friday, January 06, 2012
UPDATES INCLUDING:
Main Page: Updated Format

Guest Appearances: Season 5 added.

Cast Biographies: Updated Layout/Pics